Pawna Lake is a hidden gem that offers a perfect blend of natural beauty and adventurous activities. Whether you enjoy nature, adventure, or simply want to get away from the hustle and bustle of the city, Pawna Lake provides something for everyone. This scenic place has it all: camping below the stars, water sports like kayaking and boating, discovering historic caves and temples, and experiencing the thrill of paragliding and ziplining.
Introduction
Pawna Lake is a beautiful water body situated in the Maval taluka of Pune district in Maharashtra, India. It is surrounded by green hills and is an ideal spot for people who love nature and adventure. The lake is around 120 km from Mumbai and 60 km from Pune, making it a perfect weekend getaway destination. You can enjoy camping, trekking, kayaking, and swimming in the serene and peaceful environment of Pawna Lake. The lake's clear water and picturesque surroundings make it a photographer's paradise. You can also enjoy a bonfire and a barbecue with your friends and family while enjoying the beautiful scenery.
Boating on the lake is another activity visitors can take pleasure in. The availability of row and motor boating on the property has increased the location's desirability. While rowing a boat, one can take in views of the famed three historic citadels, Tikona, Lohagad, and Tunga. Some visitors merely come to see the sunset; it is a stunning sight.
How to Reach Pawna Lake?
The distance from Mumbai to Pawna Lake is approximately 120 kilometers, and travelers can conveniently reach their destination in less than an hour by taking multiple state buses. If you are coming from Pune, Pawna Lake is only 65 kilometers away, and driving there is a simple option. For those who prefer not to drive, there are buses available along this route as well.
If you plan to stay in Lonavala or Kamshet, which are nearby towns, all major campsites at Pawna Lake are within a 15-25 km radius. Additionally, these locations offer Jeep rentals for groups of up to ten people at a reasonable cost of about INR 1000. This provides an excellent option for convenient transportation to and around the beautiful Pawna Lake region.
Pawna Lake Geography
Pawna Lake is surrounded by and situated in the Sahyadri Mountain Range's Western Ghat Regions. A magnificent hidden location in one of the mountain valleys is Pawna Lake, which is surrounded by historical sites, lakes, temples, the Pandava's Carpet Caves, forts, and other landmarks.
Pawna Lake Distances
Pune to Pawna Lake by Car/Bike
Via Kamshet:
To reach Pawna Lake from Pune via Kamshet, follow this route:
Start from Pune and head towards the old Pune-Mumbai highway.
Continue on the highway until you reach the Somatne Toll Plaza.
After the toll plaza, take a left turn at Kamshet.
Follow the road towards Pawnanagar.
From Pawnanagar, continue on the road until you reach the beautiful Pawna Lake.
This route spans approximately 65 km and offers a scenic journey through picturesque landscapes.
H4 Via Paud:
To reach Pawna Lake from Pune via Paud, follow this route:
Start from Pune and take the Pune-Paud Road.
Continue on Pune-Paud Road until you reach Paud Chowk.
At Paud Chowk, take a right turn.
Continue straight from Jovan Chowk.
Follow the road until you reach the serene Pawna Lake.
This route covers approximately 52 km and offers a scenic drive through the charming landscapes of Paud and Jovan Chowk, leading you to the tranquil Pawna Lake.
H4 Via Somatne Phata:
To reach Pawna Lake from Pune via Somatne Phata, follow this route:
Start from Pune and head towards the old Pune-Mumbai highway.
Continue on the highway until you reach Somatne Phata.
At Somatne Phata, take a slight left onto Parandwadi Road.
Keep going straight from Kadadhe Chowk.
Continue on the road until you reach Pawnanagar Chowk.
Follow the road further to reach the tranquil Pawna Lake.
This route covers approximately 57 km and offers a scenic drive through the landscapes of Somatne Phata and Pawnanagar Chowk.
Local Train from Pune to Pawna Lake
17km via Kamshet Station
To reach Pawna Lake from Pune train station via Kamshet Station, follow this route:
Take a train from Pune train station to Kamshet Station, which is approximately 17 kilometers away.
Upon reaching Kamshet Station, you can either walk or take an auto rickshaw for about 10 minutes in the direction of Pawnanagar Road Chowk.
At Pawnanagar Road Chowk, you will find local transportation options like Jeeps, Sumos, Boleros, etc.
Board a vehicle that will take you to Pawnanagar, which is the closest point accessible by road to Pawna Lake campsites.
From Pawnanagar, you may need to switch to the same or a different vehicle to reach your desired campsite near Pawna Lake.
Please note that the transportation prices typically range from 30 to 50 rupees per person. However, when you mention Pawna Lake as your destination, the price may increase.
This route provides an economical and convenient option to access the beautiful Pawna Lake and its various camping sites. Enjoy your journey and the scenic views along the way!
Mumbai to Pawna Lake by Car/Bike
Via Kamshet
117 km from Mumbai to Pawna Lake by Car/Bike
Start from Mumbai and head towards Vashi.
Continue on the Bengaluru-Mumbai-Pune highway.
Take the exit to NH48 at Lonavala Valvan.
Drive on the old Mumbai-Pune highway and take a right turn at Kamshet Bridge.
Follow the road to Pawnanagar and reach Pawna Lake.
Via Lonavala Market Gaothan
105 km from Mumbai to Pawna Lake by Car/Bike
Begin your journey from Mumbai and take the Bengaluru-Mumbai-Pune highway.
At Khandala-Lonavala, take the exit towards NH47 old Pune-Mumbai highway, and continue until Lonavala.
Take a right turn at Kumar Resort Chowk and then a left at Chhatrapati Shivaji Maharaj Chowk. Keep driving until you reach Dudhiware Khind and Ambegaon.
Take a right turn at Aryan restaurant on your right and head to Pawna Lake.
Train from Mumbai to Pawna Lake
35 kilometres via Lonavala
Start from Mumbai Central Station and take an express train to Lonavala.
From Lonavala Railway Station, board the Lonavala-Pune Local train.
Get off at Kamshet, the second station from Lonavala.
Walk or take an autorickshaw for 10 minutes to Pawnanagar Road Chowk.
Find local transportation like Jeep, Sumo, Bolero, etc., to reach Pawnanagar.
From Pawnanagar, board the same or a different vehicle to reach campsite locations near Pawna Lake.
Local transportation prices range from 30 to 50 rupees per person but may increase when heading to Pawna Lake.
Best way to reach Pawna Lake: Our Recommendation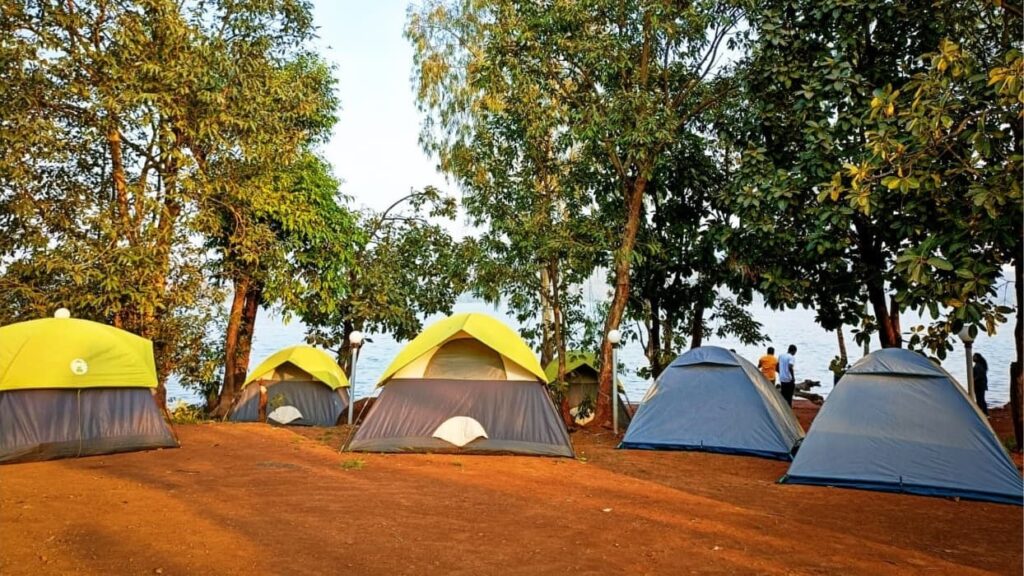 The simplest route to reach Pawna Lake is via Lonavala. Pawna Lake and Lonavla Hill
The station is closely connected, making it easy to access Pawna Lake from Lonavala. You can reach Lonavala by train, bus, car, bicycle, or local transportation options.
The motorway, historic Pune-Mumbai Road, and the railway between Kamshet and Lonavala provide greater connectivity from Pawna Lake to major cities like Mumbai and Pune.
Kamshet serves as the primary market for the community, further enhancing the accessibility of Pawna Lake.
With these well-established transport options, Pawna Lake becomes a convenient and accessible destination for tourists, falling under various categories like Tourist Places Near Lonavla, Lonavla Lake, Lonavla Lake Camping, and Pawna Lake Camping.
When is the best time to visit Pawna Lake?
Pawna Lake Camping is available all year, however, most visitors prefer to visit between the months of October to March when the rainy season has ended. There is so much greenery that it appears Hill has pulled over and napped under a green blanket. Although the water level in Pawna Reservoir is currently at 100%, now is the time to visit Pawna Lake.
The best sunsets Musical and picturesque evenings are held at Pawna Lake, and all tourist attractions are fully occupied throughout the winter season. Most mornings in Pawna Lake are foggy, giving the impression of Mahabaleshwar.
Summers in Pawna Lake are short but intensely hot and humid. It receives extreme humidity throughout the summers, with blistering thermometer rises of 40 degrees Celsius, making it uncomfortable for travelers to visit the town during this season. Pawna Lake's summer season begins in March and lasts through the end of April. The nights, on the other hand, are pleasant and cool. The area has a tropical climate and receives a lot of rain throughout the year.
Last week in December, the temperature in Pawna Lake ranged from 11 to 15 degrees
Celsius. Dew wets the tent from the outside and sometimes from the inside. The sun's beams cure your body and spirit when they fall on your eyes.
Exciting Activities and Adventures to Enjoy at Pawna Lake
At Pawna Lake, you can indulge in a variety of activities and experiences that promise a memorable and enjoyable time:
Pawna Lake Camping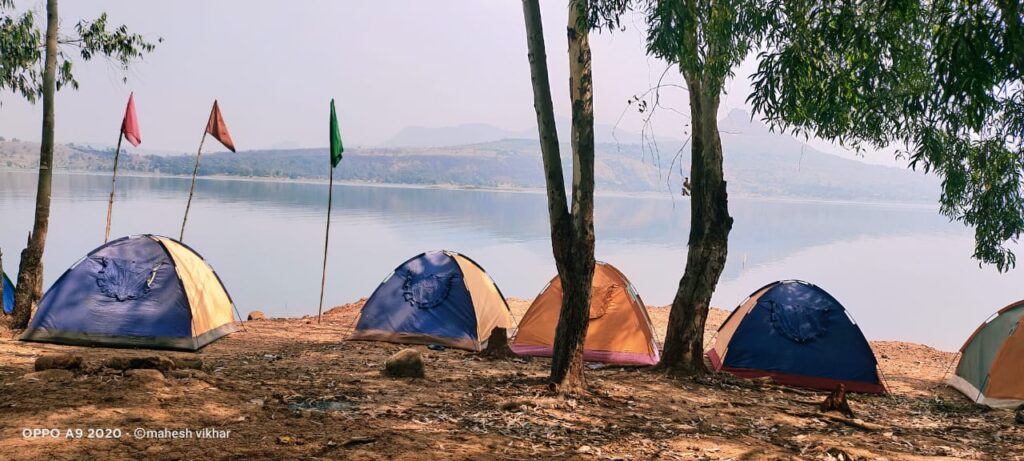 Experience the serenity of nature with lakeside camping, gazing at the stars, and enjoying a campfire. The "Pawna Lake" is a spot where you may relax. Nestled near the Pawna Lake Back Water, our camping ground provides a peaceful one-night Tent Stay experience, with sharing tents and delectable food packages included.
Overnight Camping at Pawna Lake offers the warmth of a Campfire, an experience of pure serenity, and breathtaking views of the water shimmering from silver to orange to navy.
Delight in a starlit sky while relishing a delicious BBQ meal.
Located near Mumbai and Pune, Pavana Lake Camping is a perfect destination for lakeside camping. Choose from various Camping Packages that offer Evening Snacks, Barbecue, Dinner, Breakfast, and more. Booking at Pawna Lake is now hassle-free at your fingertips, with different stay options, campsite choices, activities, and delectable food offerings available.
Boating: Enjoy Pawna Lake's Water Delights
Boat and Float! For the previous six years, Pawna Lake has been drawing a huge number of tourists by improving activities such as Lake Boating, Paddle boating, swimming, fishing,
lake tubing, and so on. Pawna Lake is safe for humans because it has no dangerous water-living species. We cannot determine the depth of Pawna Lake, so swimming with a life jacket is required
Pawna Lake Kayaking: Embrace Nature's Calm Waters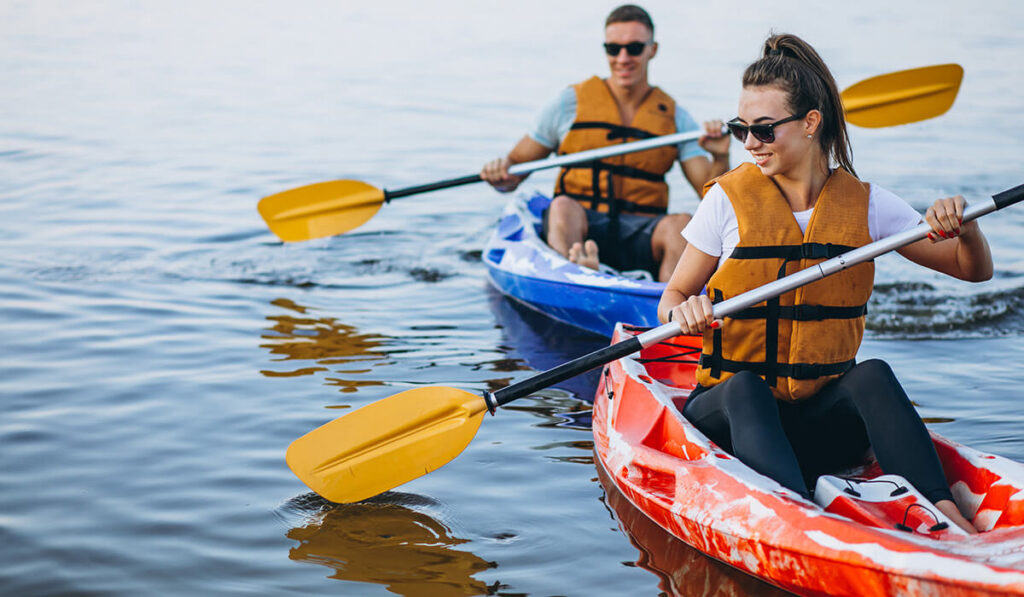 Kayak Bliss at Pawna Lake. Water sports activities at Pawna Lake include kayaking. Kayaking is an enjoyable water-based hobby. In a tiny watercraft with double-bladed paddles. Kayaking has gradually acquired popularity within the adventure community, but it remains a sport that is beyond the mainstream in India. It is still preferred over competitive sports. Nonetheless, kayaking is now available in Pawna Lake in Lonavala.
Everyone should go kayaking at Pawna Lake because it can be so calm while still being in nature. Taking up kayaking, on the other hand, may have more long-term benefits to your physical and emotional well-being than you realize. Most couples, families, and groups choose the soothing and stress-relieving water sport of kayaking.
Paragliding: Take Flight at Pawna Lake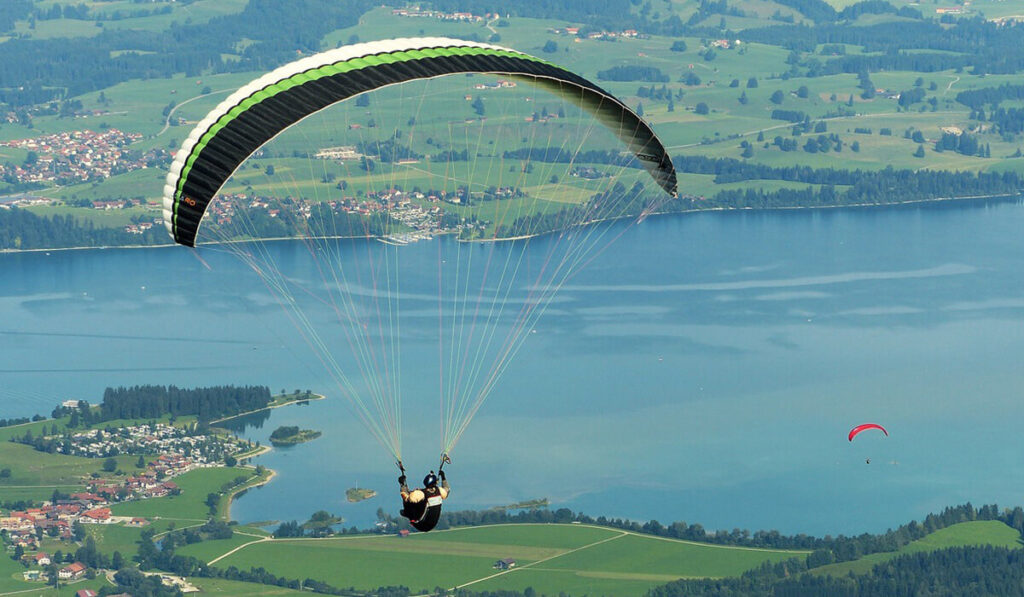 Paraglide Over Paradise! Paragliding is an exhilarating adventure sport involving recreational and competitive flying.
Tandem Paragliding is offered at two scenic locations, Pawna Lake and Kamshet, with Kamshet located 14 km away from Pawna Lake. However, paragliding is a highly sought-after activity as it is available only for 7 months and is rarely done due to its high prices and limited flight time, which typically lasts about 10-15 minutes, subject to wind direction and speed.
For those seeking the thrill of Pawna Lake Paragliding, the charges are Rs. 3000 on weekdays and Rs. 3500 on weekends. Additionally, availing photos and videos of the experience incurs an extra charge of Rs. 500.
Trekking: Hike to Heights
Calling all adventure seekers and nature enthusiasts! Get ready for a thrilling journey to the ancient forts near Pawna Lake – Tung, Morgiri, Korigad, Lohagad, Visapur, and Tikona.
These historical marvels are waiting to be explored, offering mesmerizing views and challenging treks that will leave you awe-inspired.
Tung Fort
Tung Fort, also known as Kathingad Fort, stands tall at an elevation of 1075m above sea level. Located just 12 km from Malavli railway station or accessible from Lonavala, Tung Fort boasts a conical shape with steep climbs and a narrow route along the mountain's edge. The breathtaking experience of reaching the fort, surrounded by water on three sides since the construction of Pawna Dam, will test your trekking skills. Don't miss the Goddess Ekvira Aai Temple situated nearby, adding a spiritual touch to your adventure.
Morgiri Fort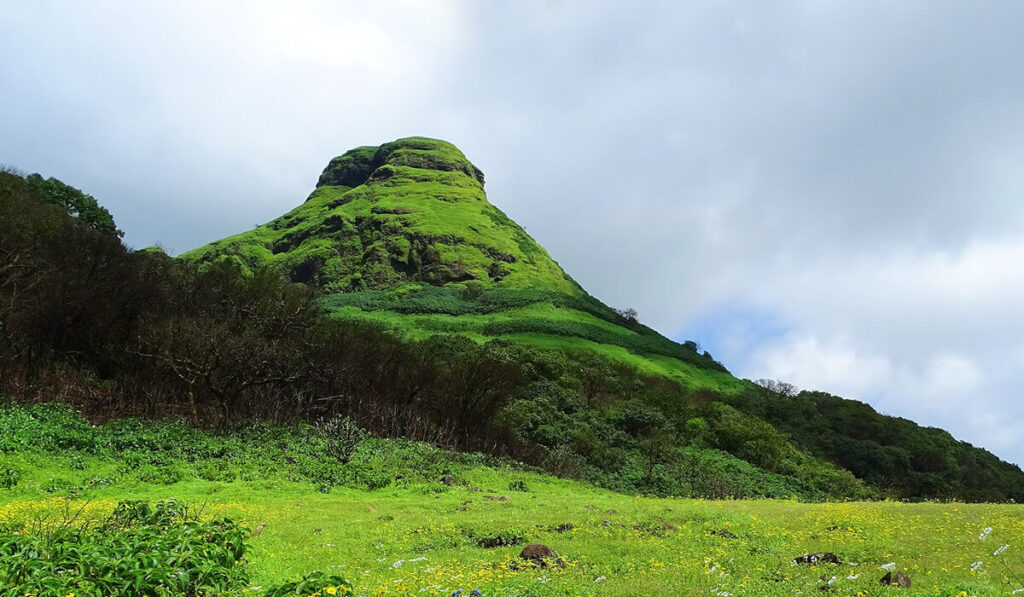 Morgiri Fort, offering a thrilling elevation of 3010 feet above sea level, awaits your conquest. The trek to Morgiri is challenging, but the panoramic views from the top make it all worth it. Gaze upon the majestic Pawana Dam, Tung, Tikona, and Korigad forts from this vantage point. Discover the serenity of the Jakhmata goddess' cave during your journey, and be prepared to immerse yourself in nature's wonders.
Korigad Fort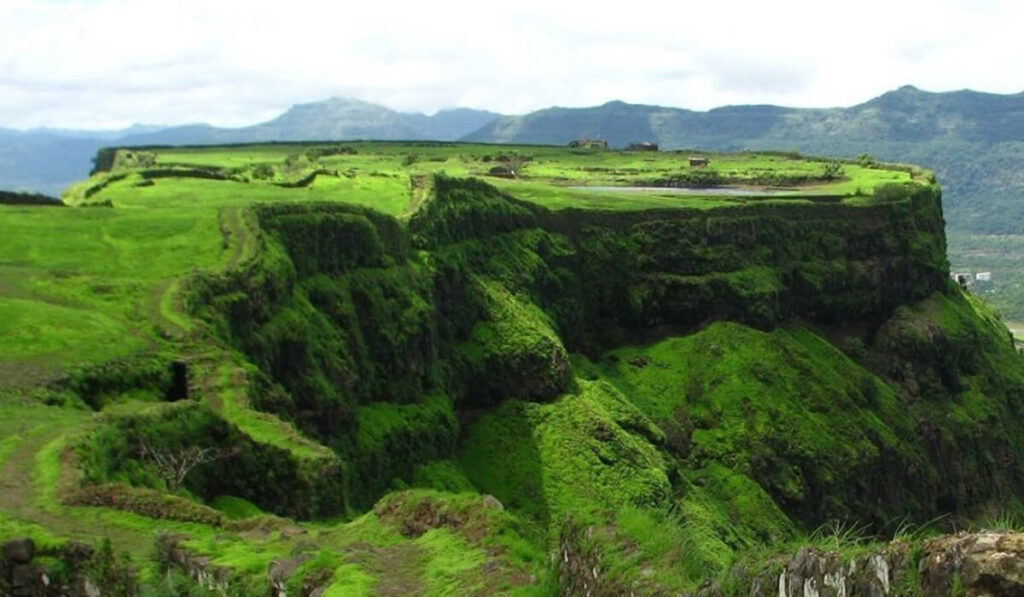 Korigad Fort, standing proudly at 923m above sea level, is a true historical gem. Accessible from Lonavla, the fort greets trekkers with a 5-foot-wide earthen road leading to its footsteps.
The easy climb up to the fort is perfect for all skill levels, making it an ideal trekking destination for both beginners and seasoned adventurers. Explore the three temples on the fort, offering shelter and adding a spiritual touch to your experience.
Trek to Lohagad or Visapur
Lonavala, also known as Mawal, is a treasure trove of gorgeous mountains and forts.
Lonavala is also home to the forts of Lohagad and Visapur. Lohagad is a fantastic fort to visit at any time of year. If you have the time to visit both forts in one day, Lohagad Fort is connected to Visapur Fort, which is also a good trekking destination.
Visapur Fort is larger and higher in elevation than Lohagad Fort. These are fairly easy treks, and even inexperienced hikers should have no trouble. There are merely steps at Lohagad and little trekking is necessary, however, the trip to Visapur fort is a feast for the adventurer in everyone.
Tikona Fort Trek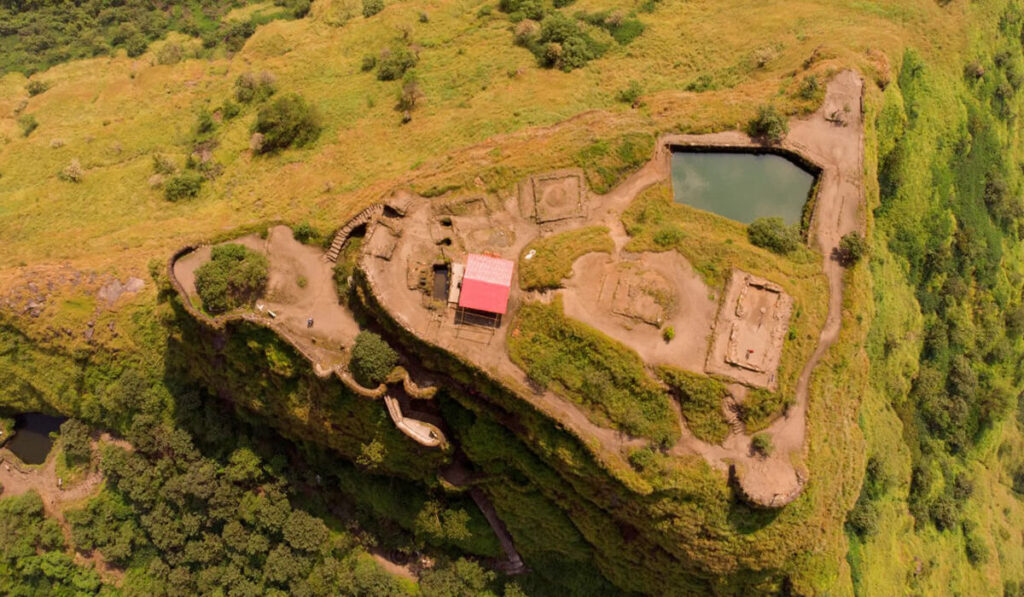 Tikona, also known as Vitandgad, is Mawal's most prominent hill fort. It is 37.7 km from Lonavala and is located near Kamshet. The 3500-foot-high hill is pyramidal in shape, and the name Tikona means 'Triangular'.
The fort is a popular trekking site known for its enormous doors, Trimbakeshwar Mahadev temple, seven water reservoirs, and Satvahan caverns. The major attraction of the fort is a
temple inside the cave, as well as a water cistern. The entrance to the fort is a tad steep, with curved staircases. The Pawna Dam and the forts of Visapur, Tung, and Lohagad may be seen from here. In a nutshell, the view from the fort is breathtaking.
Are you ready to embark on a journey filled with adventure, history, and breathtaking
landscapes? Gear up for epic treks to Tikona, Lohagad, Tung, Morgiri, and Korigad forts near Pawna Lake. Pack your bags, put on your trekking shoes, and set out on an unforgettable expedition to these ancient wonders. Get ready to create memories that will last a lifetime as you explore the hidden treasures of Maharashtra's historic hill forts.
Pawna Lake Delights: Birdwatching, Photography, Picnics & More!
Other Pawna Lake Activities includes:
Bird Watching: Pawna Lake is home to diverse bird species, making it a paradise for birdwatchers.
Photography: Capture the scenic beauty and picturesque landscapes of the lake and its surroundings.
Picnicking: Plan a delightful picnic with family and friends, soaking in the natural beauty of the area.
Relaxing: Unwind and rejuvenate amidst the peaceful ambiance of Pawna Lake.
Pawna Lake is surrounded by a wealth of historic places, including caves, temples, and forts that offer a glimpse into India's rich cultural heritage.
Caves & Wonders: Ancient Mysteries near Pawna Lake
Karla Caves
Located in Karla village near Lonavala, Maharashtra, the Karla Caves are ancient Buddhist rock-cut caves that are just 10 km away from Lonavala. These caves are well-known for the Goddess Ekvira Aai Temple situated at the entrance, about 20 feet away from the caves.
The main attraction is the Great Chaitya, an impressive hall with a stupa at its center, adorned with intricate carvings and sculptures. The caves also house several viharas (monasteries) that were once used by Buddhist monks for meditation and communal living. As you explore the caves, you'll be captivated by the mesmerizing view of the surrounding lush green valleys and hills.
Bhaje Caves
Adjacent to the Karla Caves, Bhaje Caves are situated 5 km away. Positioned 400 meters above Bhaje village, these 22 rock-cut caves can be easily reached via a 20-minute walk from Malawali Station. Bhaje Caves are popular during the rainy season due to the magnificent Bhaje Waterfall.
These caves are known for their significant water management system, evident from the
intricate water channels and cisterns carved into the rocks. The striking feature of the caves is the magnificent chaitya hall, adorned with intricate carvings and iconic horseshoe-shaped windows. Bhaje Caves offer a sense of tranquility, making it an ideal spot for meditation and introspection. During the monsoon season, the nearby Bhaje Waterfall adds to the allure, making it a popular destination for both history enthusiasts and nature lovers.
Bedase Caves
Located in Karunj Village, on Kamshet – Pawnanagar Road, Pune, Bedase Caves are Buddhist rock-cut monuments, forming part of the Maval region along with Karla and Bhaje Caves.
These Buddhist rock-cut monuments offer a glimpse into the region's ancient past. With fewer crowds, Bedase Caves provide a peaceful ambiance for those seeking a serene retreat amidst nature. The architecture and carvings at Bedase Caves showcase the artistic craftsmanship of the ancient artisans. Visiting these caves allows you to immerse yourself in history and admire the architectural marvels, giving you a deeper appreciation for the rich cultural heritage of the area.
Temples: Step into History
Explore the ancient temples that surround the lovely Pawna Lake on a fascinating trip through time.
Wagheshwar Temple:
Positioned within Pawna Lake, the Wagheshwar Temple is visible for only five months of the year and remains underwater for the remaining seven months. It is believed to have been built during the time of the Pandavas and is dedicated to Lord Shiva.
The Vagheshwar Temple in Pawna Lake has been around for 6-7 centuries. Evidence of Chhatrapati Shivaji Maharaj Swarajya, as well as the British Empire. It's a well-known temple at Pawna Lake.
Prati Pandharpur Temple, Dudhiware Khind:
Situated near Pawna Dam, this temple is a replica of the famous Pandharpur Temple in Maharashtra. Vitthal and Rukmini's Prati Pandharpur temple is located at Dudhiware Khind near Pavana dam. Pandharpur is a popular religious place in Maharashtra. Millions of people visit this location each year, but not everyone can visit Pandharpur, so Baba Maharaj Satarkar, a well-known Dnyaneshwari speaker, decided to build a replica of Pandharpur named Prati Pandharpur.
Ekvira Temple, Karla:
The Ekvira Aai Mandir is a Hindu temple in Maharashtra, India, near the Karla Caves and
Lonavala. The goddess Ekvira is worshipped immediately adjacent to the caves, which were previously a Buddhist center. The temple is a popular place of worship for the Aagri and Koli tribes.
Originally, the temple complex comprised three such shrines built in a row, all facing west. The center and southern shrines are fully preserved, whereas the rest of the structures are only maintained in the plan. The maha-mandapa, Varsha-mandapa, and gopura are in front of these three shrines, which are encircled by sixteen shrines dedicated to additional parivara devatas.
These historic sites around Pawna Lake offer visitors a chance to delve into the cultural heritage and architectural marvels of the region. They provide a perfect blend of spirituality and natural beauty, making the area a popular destination for tourists and history enthusiasts alike.
Camping and Agro-tourism at Pawna Lake
Camping and agro-tourism at Pawna Lake have played a vital role in fostering strong connections between farmers and the local community. As a thriving and reputable agro-tourism destination, it has become an asset to the community, unlike traditional farms that may be perceived as liabilities. The introduction of agritourism has put Pawna Lake on the map and has aligned it with the principles of sustainable agriculture.
Agritourism has empowered farmers, transforming them from price-takers to price-makers. This opportunity allows them to generate additional income from their existing land resources. Those with expertise in agritourism have found it to be highly profitable. The increased income not only benefits the farmer's family but also opens doors to create new job opportunities for family members, potentially including future farmers.
While the economic impact of agritourism is often seen as significant, it is considered to be a relatively modest contribution to the overall economy. Nonetheless, its positive effects on the farmer's livelihood and the community are noteworthy, showcasing how agro-tourism can play a vital role in enhancing local economies and fostering sustainable practices.
Agriculture Flourishes Around Pawna Lake
Agriculture around Pawna Lake benefits significantly from its vast water retention capabilities. During periods of low rainfall or in the dry summer season, the stored water from the lake is utilized for agricultural purposes. This water not only sustains the crops but also seeps down to the underground water streams, leading to an increase in the water level. Consequently, nearby villages' wells experience improved water content.
In the summer months, various crops thrive around Pawna Lake, including Wheat, Groundnut, Pulses, Bajri, Jowar, and seasonal crops like tomatoes, cucumbers, and more. As the monsoon arrives, rice cultivation becomes predominant, with large quantities being grown in the region. Additionally, Pawna Lake's agricultural landscape includes significant cultivation of sugarcane, contributing to the area's economic growth and sustenance of local communities.
Final Words
Come to Pawna Lake and make your weekend special with unforgettable experiences that will rejuvenate your mind, body, and soul. The tranquil environment and breathtaking views of the lake will soothe your senses, while the array of activities will keep your adrenaline pumping. Whether you prefer a relaxing picnic by the lakeside or embark on adventurous treks to nearby hills, Pawna Lake has an array of options to suit your preferences.
Escape to this haven of beauty and adventure, just a stone's throw away from Mumbai and Pune. With easy accessibility and a wealth of activities to indulge in, Pawna Lake promises to be an unforgettable destination for a weekend getaway. So pack your bags, bring your loved ones along, and create lasting memories at Pawna Lake – a paradise waiting to be explored. Let the magic of this serene oasis refresh your spirit and leave you with cherished moments to treasure for a lifetime.